Some people are lucky enough to have the perfect HGTV kitchen, complete with an open floor plan, kitchen island, counter space and storage for miles. Unfortunately, for others, this kitchen is just a dream.
If your kitchen is constantly cluttered with kitchen items, pots, and pans, or miscellaneous utensils, then you should consider investing in the right storage for your space. Small kitchens are nice, but they also require a minimalist approach, which many of us are not so great at. Fortunately, there are hundreds of ways to style up and create storage, which is why we've outlined the different ways to optimize your kitchen space, making everything you do a breeze.
1. Install a Kitchen Rollout Shelf
Rollout shelves should be at the top of your list even if you have a big kitchen with plenty of space. A kitchen rollout shelf effectively doubles your storage capacity by installing boxes on top of a fixed shelf. These boxes slide out of the cabinets giving you more space and storage, as well as make kitchen items more easily accessible. Talk about a two for one special!
2. Use the Tops of Your Cabinets
This is one of the easiest ways to get extra space. If you don't have them already, we recommend installing cabinets so that your stuff stays secure. You can store items that are used less frequently like serving platters, small appliances, or bulky items. The best part about it is that you can install slide out shelves to further enhance the space and make more room.
3. Use the Space above Your Fridge as Well
Another home kitchen organization idea would be to use the available flat area on top of your fridge. Most of us probably use it to store some cereal or medicine. But, think about ways to effectively use it instead! You can put a divider up there to separate your cutting boards, add a small pullout for condiments, and other foods that don't need to be refrigerated and still have some space left over for extra cutlery or dishware.
4. Add Shelves and Cubbies Just Outside the Kitchen
Another great way to utilize a small kitchen space is by taking advantage of the area just outside of it. You can add a small shelf around the corner and keep important household items like cookbooks and appliances such as blenders and mixers. It's a great way to stage the space as well as giving the kitchen a homier feel.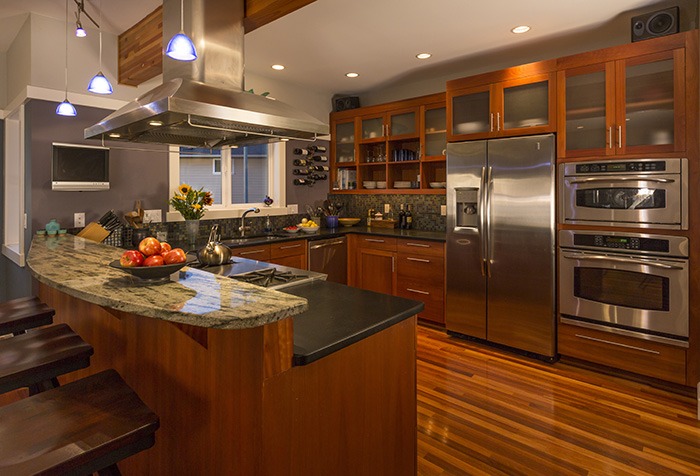 The Best Kitchen Storage Ideas
No house or apartment is too small. All that matters is knowing how to make the most out of the space. With these simple but effective kitchen storage solutions, you'll be all set to have the most organized kitchen no matter how big or small it is! Contact us for more ideas on how our pull out shelf services can help you create your dream kitchen.