The pantry is the hub of kitchen storage. As the contents of the pantry are ever-changing, a functional and adaptable space is required. Pantry design consists of shelving, drawers, and baskets that can be easily changed and arranged to develop a storage solution that is specific to the needs of a family or individual. The design must be smart in order to accommodate for the vast range of products that are contained and concealed.
Pantry Drawers
Pantry drawers are ideal for storing utensils and snacks and can be designed to suit the style and overall look of the room. Our dovetail construction drawers are designed for lifetime use and feature under-mount slides that have quiet, soft close mechanisms.
Dividers
Drawer dividers are perfect for creating space for multiple size kitchen utensils. Shelf dividers can organize small appliances and kitchen equipment. Most storage units in the pantry can be fitted with custom build partitions to create spaces that are specifically designed for particular products and items.
Baskets
Pull out baskets are perfect for pantry organization and can be used for both food products and linens. Choose from smart, smooth shapes to more textured, rustic baskets to fit in with the overall decor of the room.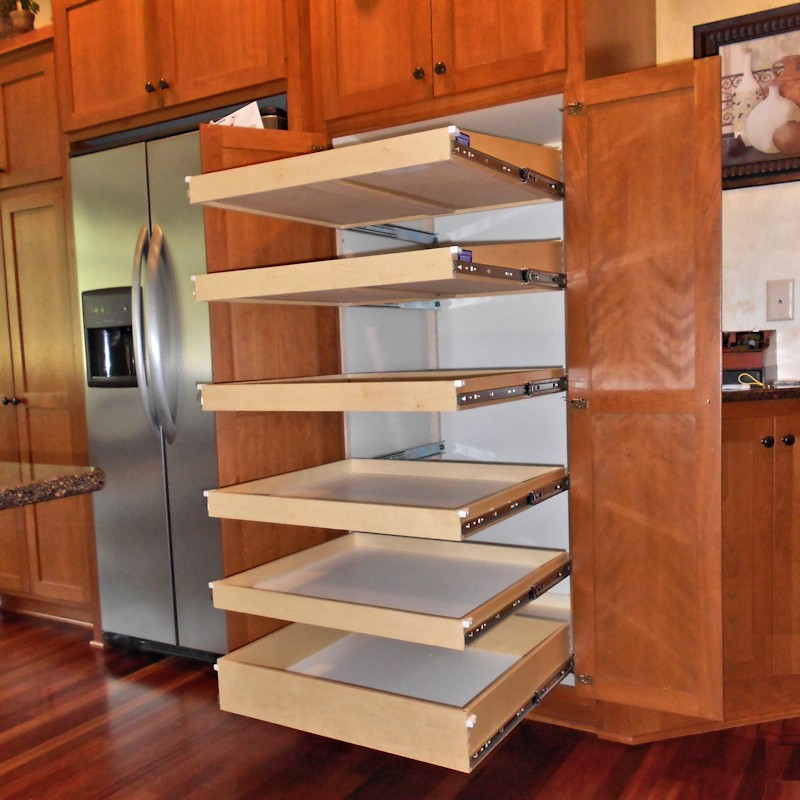 Pull Out Shelves
Sliding storage shelves create an easy display solution for pots, pans, utensils and food products. Shelves can be pulled out providing easy access to items which means they can be deep and they can store a much larger quantity than a typically fixed shelf. Pull out shelves are a great way to optimize storage space.
Wine Storage
Wine collectors can choose a storage solution that will display their wine in an organized and functional way. Integrated hidden mounting stemware storage can also be a visually appealing way to keep the wine collection and glassware together. Custom bars are great conversation starters and are ideal for entertaining guests. Add a wine refrigerator to keep bottles chilled when hosting dinner parties. Choose racks to display wine and doors to conceal liquor.
Lighting
Highlight a feature in your pantry using LED lighting with multiple switching options. Your wine bar can be the focal point of the room, and by adding lights you can transform a simple pantry into a beautiful and aesthetically pleasing, modern space.
Countertops
Countertops can be included in a design to create space to prepare food and snacks as well as to pour drinks for guests. This can be a particularly desirable feature as it creates an additional workspace to that of the kitchen.
Top Shelf Pull outs offer custom design furniture and storage solutions for each room in your home while taking your space, style, and budget into consideration. Using the wide range of quality options that we have available, we create the perfect design to suit your needs. Our products come with a limited lifetime guarantee, and we offer a convenient white glove installation service. Visit our website for pantry ideas and design inspiration, and feel free to contact us with further questions. We are the experts in home storage design.