Slide out shelves allow you to make use of an area in which you thought was no longer useful. Here is why slide out shelves are the solution you've been looking for.
Slide out shelves are a space-saving and very practical attribute that can be in integrated into almost any aspect of home storage design. At Top Shelf Pull Outs, we work with you to create custom build pull out shelves that are designed to optimize the storage in any given space.
Our shelves are not just limited to one type of storage solution or one type of room. They can be adapted to suit your space, budget, and your needs. Custom slide out shelves can be built into cupboards and pull out drawers and provide partitioned spaces to accommodate the desired use.
1. Closet Space
The hanging rail of a closet is traditionally the area of a small closet that provides the best display options and the most space. Shelves are often fixed, and as a closet is usually deep, the back the shelf is hard to reach. This makes it difficult to see all of the items on the shelf, or even worse, the deeper section is dismissed altogether creating wasted storage space.
Sliding shelves can provide a simple solution in this instance. All items can be accessed, and clothing items can be pulled out as needed without having to remove and refold other items in the process.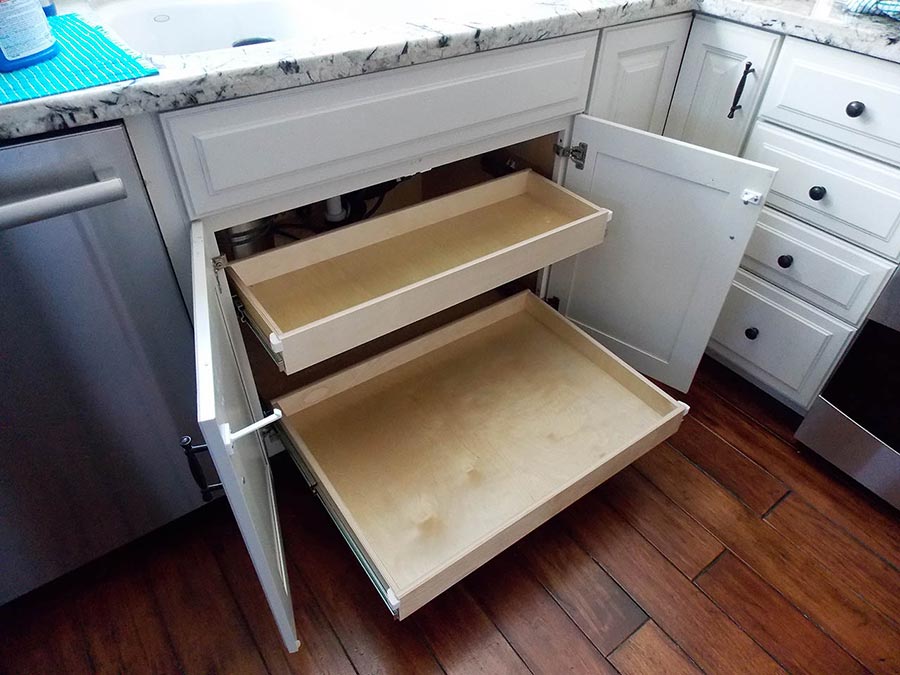 2. Kitchen Storage
The kitchen houses a wide selection of different shaped and different sized food products, utensils, and equipment. As the kitchen is continuously restocked, storage is a major necessary design aspect of this room. Drawers and cupboards are a very common feature, but pull out shelves can provide valuable storage opportunity.
Spice racks

can be integrated into drawers or cupboards to create a pull out easy access display unit. Products can be laid at an angle to utilize the space and to provide a good view of each label. This type of organizer is suited to other food products too.
Pull out shelves are perfect for pots and pans which can be accessed without the need to pull out those at the front first. Sections can be created using custom built fixed dividers, which can be particularly useful for lids that are best stored vertically or at an angle to save space.
Kitchen waste bins can be concealed in a cupboard on a sliding shelf. This is visually more pleasing than having a rubbish bin in view, and also more hygienic.
3. Office Storage
Stationary can be easily misplaced or lost, especially the small items such as pens, erasers, scissors etc. Creating a partitioned pull out shelf could eliminate this issue, and keep all items safely arranged.
Files can be stored in an organized way without the need for a separate filing cabinet. Sections can be created using structured partitions that will allow you to keep important documents in their own allocated spaces.
Slide out shelves provide a creative approach to home organization, and can create an abundance of storage solution possibilities. Contact the experts at Top Shelf Pull Outs to find out how you could benefit from our innovative slide out shelf designs in your home.