The kitchen is the hotspot of the house, the gathering place of a humble abode. Regardless of how you refer to your kitchen, it is one of the most valuable spaces in a home for many reasons. Proper organization or workflow in your kitchen will help in food preparation and make cleanup less complicated, thus saving you time and patience. Most homeowners take to organizing pots and pans, dish and silverware as a must. Unfortunately, often people overlook the smallest of details. Consider spices, a pantry item that can take your meal from boring to sublime, but yet, spices tend to get a bum rap when it comes to storage. Maybe it is time we look at spice rack ideas as a way to organize, hide or showcase your seasonings.
Look to the Wall
When it comes to design ideas for storing your spices, one should consider any existing wall space. An ideal storing method for the wall is a hanging spice rack. This form of storage can have your spices up and out of the way without taking up any extra space. There are also many other ingenious styles and types of wall spice rack ideas that one can implement quickly. You can go with a magnetic wall panel, perfect for holding metallic containers of herbs and spices or a recessed section in your wall. If you still would like to keep spice containers on your wall but not on display, there are options to keep them hidden, such as architectural corbels.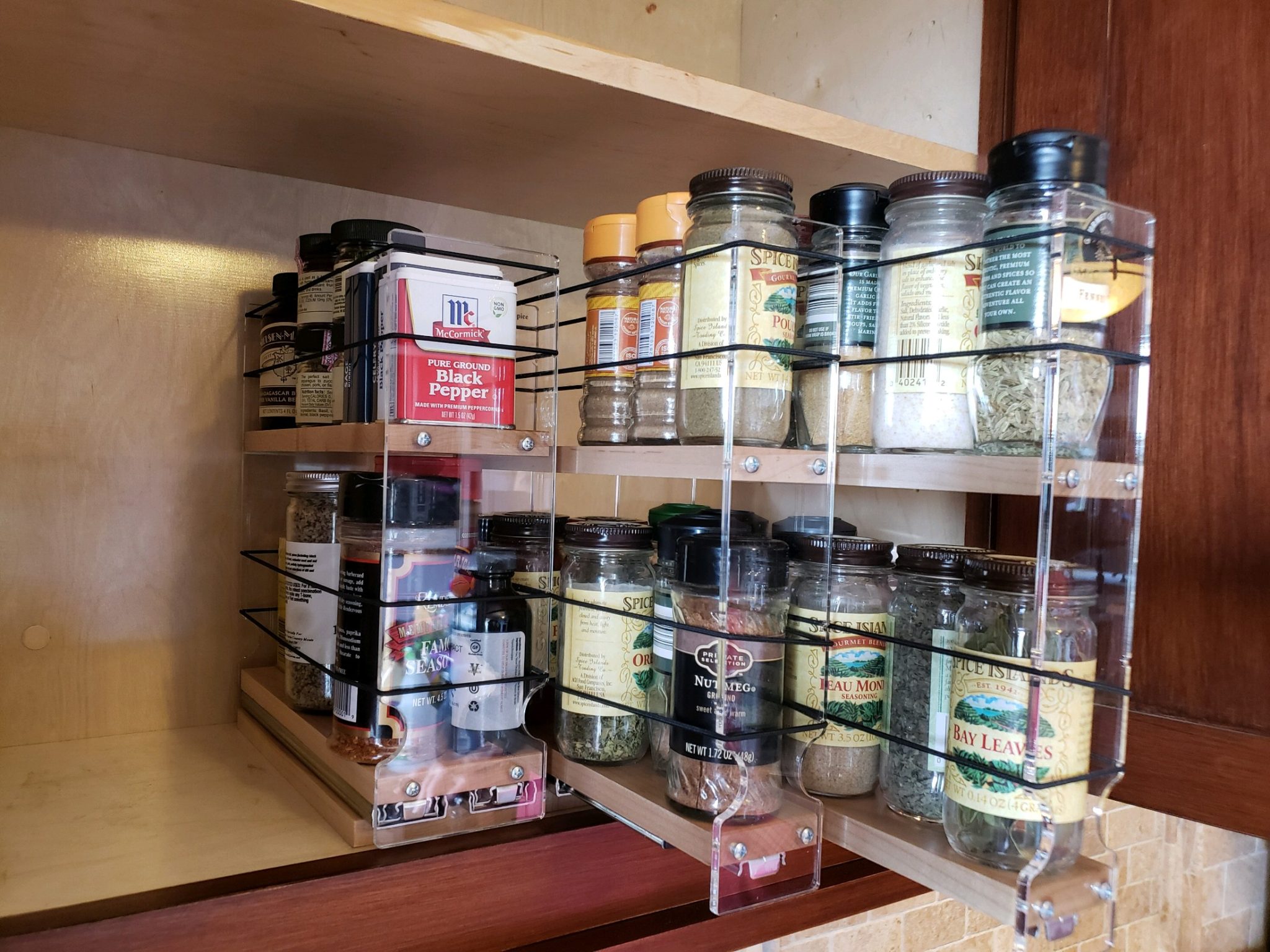 Behind Closed Doors
If you lack the space on your kitchen walls or would rather have your spices organized in your pantry or cabinet, there is a multitude of spice rack ideas. Cabinet saver styles that mount underneath a cabinet shelf keep your spices out of the way and the shelf above open for your dishware or other kitchen necessities. Spice rack organizers also come in tiered designs that rest on top of a cabinet shelf, providing an extra bit of space making it easier to find a special seasoning when needed.
Other spice rack ideas that will keep your spices off the counter and out of sight include storing them in your refrigerator, pantry or drawers. If you are a crafty person, there are inexpensive DIY racks or ideas on how to repurpose household items including antique soda crates as spice racks that are perfect for protecting your spices in any space. Plastic, flexible inserts of many shapes and sizes designed for drawer storage are also ideal for hiding away your seasonings and keeping them covered.
When it comes to kitchen organization, one must not forget the details. Properly storing and protecting your spices is essential to their shelf-life, texture, and flavor. Whether you need to organize your seasonings, cabinets or closets, our approach to your organizational problems is to find the optimum storage solutions. Utilizing available space to the best advantage is a significant component of our design plan. With these spice rack ideas, your kitchen will be one step closer to kitchen envy and culinary perfection.