Step #1: Meet the Design Consultants
First step is to call us to schedule a free estimate for your custom pull out shelves. We send one of our designers out to measure your custom pull out shelves and leave you with a quote for our beautiful pull outs, over head trays, divider bins, untensil holders, spice racks, shoe racks, wine racks, lid holders, pull out trash can organizers, closet drawers, pantry pull outs, blind corner solutions with pull out shelves, adjustable pull out shelving in garages or pantries are all made to maximize space and create organization.
We leave our customers happier with their space more effecient!
Step #2: PRODUCTION
Our custom pull out drawers are made to order in the U.S.A with a 7 -10 day turn around and a life time warranty. If you elect to order with us we leave your home with a tentative date on the calendar for our installers to come back and create the inner beauty you and your cabinets deserve with our customized pull outs shelves.
No need for a second appointment with our team to come back and measure. Yup, we took care of all that in step #1.  It's a simple two-step process- order and install!
sTEP #3: INSTALL & White Glove service
We will not only send out qualified installers to complete the pull out shelf process, but we are proud to offer a white glove service for those interested.  Yes, we get fancy for those of you who want help organizing and maximizing your new space with our very own organizer.
She will come out towards the end of the install and help edit, catergorize, and put all your goodies back in their new fancy roll out shelves. She can work with you or you can leave her to do her magic.  This package is a game changer and makes our customers very relieved and giddy.
Pull Out the Value with Top Shelf
We help organize and retrofit your current cabinets, shelves, linens, closets, garages with some fun bells and whistles referred to as pull out shelves or roll out shelves. We are known for bringing value, more space, and orgnization to your home with a Neiman Marcus quality product at a cost that doesn't break the piggy bank (think Target pricing).
Our customers range from new moms, families needing a kitchen update, home owners wanting more space, realtors who want to bring more value to homes before and after the sale, people who don't want to get on their hands and knees to reach for pots and pans, businesses who need to store products (biotech, restuarants, dentist), father's who want to redo the garage, downtown residences that needs to maximize space, etc...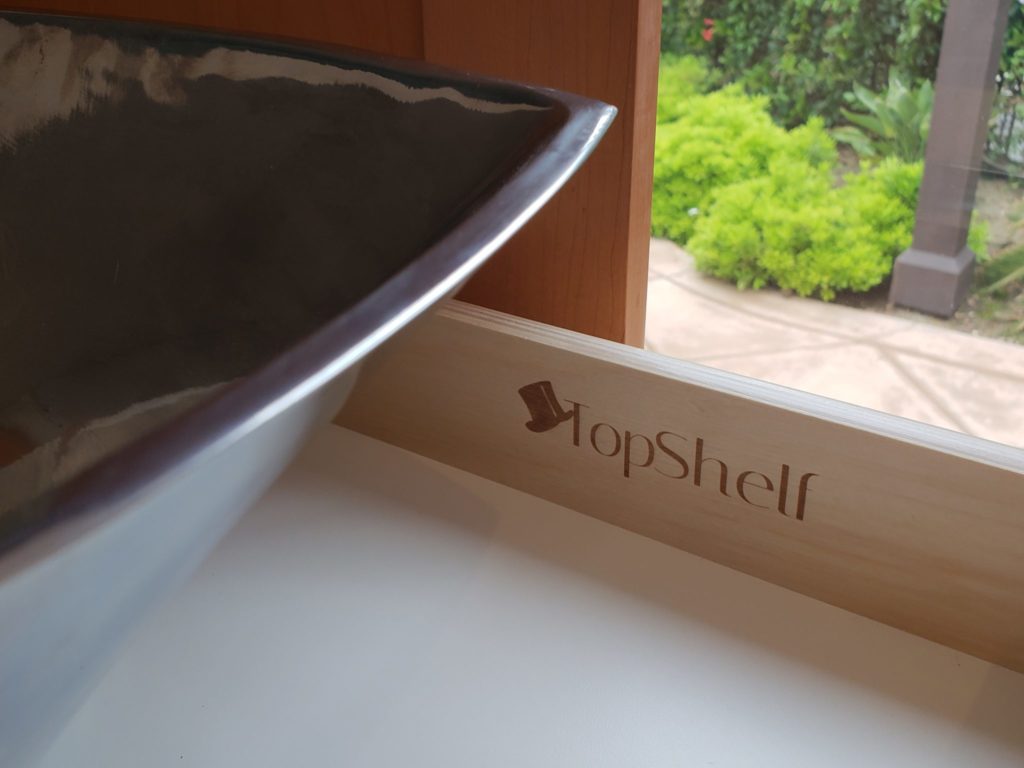 Our pull out shelf product is truly universal.  We have sold over 2 million pull out shelves since 2002.  Our competive edge is multi-fold. First, the construction of our pull out shelf is with a glued, dado bottom and a strong dovetail corner joint.  Dovetail joints have been around for thousand of years because they stand the test of time. These is a featured technique because it is known for its resistance to being pulled apart. Some of the earliest known examples of the dovetail joint are in ancient Egyptian architecture entombed with mummies dating from First Dynasty- just call us old school. Yup, we did our homework when constructing our product so it would be high quality included in our standard cost.
Second, our cost includes top of the line products with our glides, UL testing, our wood selection for it's strength all part of our Top Shelf standard pull out shelf.  We come out of the gates with attractive, fair pricing with out making the customer pay extra to achieve this qaulity.
Lastly, we think out of the box and have packaged this amazing product with an organizer so that you maximize your new shelf potential.  We are full service and bring value to our customers with many solutions.